Prof. Dr. Horst Hildebrandt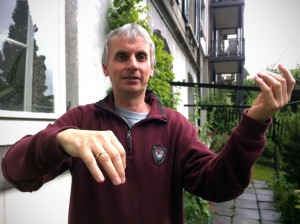 Horst Hildebrandt studied violin in Freiburg and London, as well as medicine in Freiburg. Born in Marburg, he has been involved in the development and management of physiological and medical advice for musicians since 1985; he is now Head of the Music Physiology/Music and Preventive Medicine Section at ZHdK and is a consultant for the methodology and didactics groups in music physiology. He trained as a Dispokinesis therapist and received further education in sensory and psychomotor therapy as well as pain therapy.
He is also Lecturer for the research domain (FSP) Musical Interpretation at the Department of Music, ZHdK. Germany, Horst's focus is on teaching and research on prevention and health promotion, learning strategies and brain physiology, psycho-physiological public performance and audition training. Consequently, Horst also supervises professional musicians in injury prevention and treatment.
Horst was a member of the National Youth Orchestra and the Young German Philharmonics. He enjoys performing as a violinist in opera and radio orchestras, in addition to being the leader of the Hilaros-Quartet and the Freiburg Ensemble Adventure. Moreover, Horst is Founder and Executive Team Member of the Swiss University Centre for Music Physiology. He was also an affiliated Fellow of the Collegium Helveticum the University and ETH Zurich.